Disclaimer: The image is for representation purposes only. The packaging you receive might vary.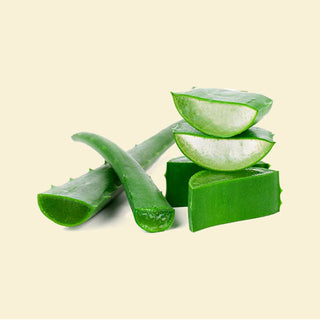 BENEFITS
Complete healing agent for your skin and hair.
Soothes your skin leaving it moisturized, rejuvenated and radiant.
Acts as a sunscreen helps chapped lips, dandruff and dry skin.
Works as a cooling agent against prickly heat.
Tightens skin restoring youthfulness.
Full Ingredients List
Aqua (water), aloe vera juice, propylene glycol, carbomer, triethanolamine, enriched with vitamins that act as natural preservatives.
For All Skin Types:
Ancient Indian Vedic texts recognized Aloe Vera as the "plant of immortality," and true to its reputation, R.K's Aroma's Aloe Vera Gel exhibits remarkable versatility. This exceptional gel serves various purposes, functioning as a hair conditioner or hair gel, facial cleanser, moisturizer for chapped lips or dry skin, and a remedy for prickly heat. It also acts as a skin lightening agent and serves as an ideal base for blending essential oils. Furthermore, it provides effective sun protection as a sunscreen. The gel's natural soothing and cooling properties make it a perfect choice.
Apply all over face and neck, massaging gently till skin has absorbed, carefully avoiding the eyes. Gentle enough to be used twice a day.
I've been using rks aroma for many years now this is my go to product for the last 15 years. Nothing has changed ❤️
This product worked amazing on my skin..recently bought it and it succeed to reduce open pores and acne on skin ...smells amazing and leaves the skin smooth and glowing
The closest substitute to keeping an aloe plant at home. My go-to when my skin is acting up. Love that it is fragrance-free makes me want to keep applying more especially in the summer as it cools my skin on a hot day.
Ethically Sourced, 100% Natural Products
Environmentally-conscious products infused with the highest grade essential oils.
100%
Vegan
100%
Natural
Toxic
Free
Cruelty
Free
FDA
Approved
GMP
ISO
14001:2015
Purity in Every Drop
Our goal is to provide you with the
very best quality and 100% purity in every single one of our products.
FDA
Approved
GMP
(Good Manufacturing
Practice Certification)
ISO 14001:2015
ISO 9001
Our goal is to provide you with the very best quality and 100% purity in every single one of our products.
Rk aroma
Follow Along With @rksaroma