Disclaimer: The image is for representation purposes only. The packaging you receive might vary.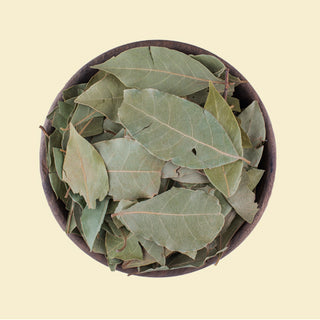 FEATURES
Botanical Name – Pimenta racemosa
Origin – Mediterranean
Part of Plant Used – Leaves
Method of Extraction – Steam Distillation
Colour – Dark yellow coloured liquid
Aroma – Fresh-spicy top and sweet undertone
How to Use – Diffuse, bath and massage
Caution – Bay is an essential oil and as such should not be applied directly, undiluted on the skin or ingested. It should not be taken by pregnant women.
The Divine Scent of Self care
Bay Essential Oil is a luxurious oil derived from the Laurus nobilis tree. It is a unique and captivating ingredient that has been cherished for centuries for its rich and spicy aroma. It is often used in perfumery and colognes for its warm and alluring scent, evoking the feeling of old-world elegance and sophistication. You can add a few drops to your everyday body lotion for a fragrant self-care ritual that leaves a lingering scent.
This rare and precious oil is also valued for its therapeutic properties. It is believed to have anti-inflammatory and antiseptic effects, making it a useful ingredient in natural remedies and skincare products. Additionally, it can be blended into a superb post-workout massage oil due to its warming properties that may help to soothe sore muscles and joints, making it a valuable addition to any wellness routine.
Indulge in the luxury of bay essential oil and unlock its numerous benefits. Whether used in aromatherapy, skincare, or natural remedies, this opulent oil is sure to elevate your self-care routine and provide a touch of uniqueness to your daily life.
Diffuse
8/10 drops on tissue or in a vaporizer
Bath
8/10 drops in a bath
Skincare & Massage
20/25 drops in a 50ml carrier oil
Ethically Sourced, 100% Natural Products
Environmentally-conscious products infused with the highest grade essential oils.
100%
Vegan
100%
Natural
Toxic
Free
Cruelty
Free
Purity in Every Drop
Our goal is to provide you with the
very best quality and 100% purity in every single one of our products.
Our goal is to provide you with the very best quality and 100% purity in every single one of our products.