Disclaimer: The image is for representation purposes only. The packaging you receive might vary.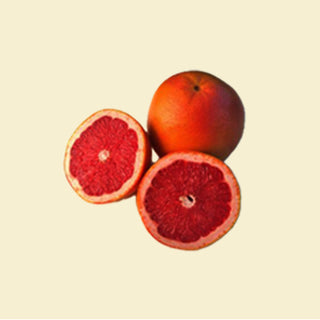 FEATURES
Botanical Name – Citrus paradisi
Origin – The U.S.A
Part of Plant Used –Fresh peel
Method of Extraction – Cold Pressed
Colour – Yellow or greenish mobile liquid
Aroma – Fresh, sweet citrus odour
How to Use – Diffuse, bath and massage
Principal Constituents – Limonene (90%), Cadinene, Paradisiol, Neral, Geraniol, Citronellal, Sinensal
Caution – Essential oils should not be applied undiluted on the skin or ingested. Keep out of reach of children. Consult with your doctor before use if you are pregnant, nursing or have a medical condition. For external use only.
Grapefruit is a large citrus fruit that got its name from the clusters they grow in that resemble grapes. Also known as the forbidden fruit of Barbados, Grapefruit peel is cold-pressed to extract the sweet-citrusy oil.
Grapefruit essential oil contains antioxidants that have a cleansing and purifying effect on your skin. Its energizing aroma invigorates the senses making any environment a happy and positive one. As Grapefruit is a citrus oil, it may cause photosensitivity, so avoid use before exposure to the sun.
R.K.'s Aroma Grapefruit essential oil is excellent to have available at all times for an instant boost of energy and positivity.
Diffuse
8/10 drops on tissue or in a vaporizer
Bath
8/10 drops in a bath
Skincare & Massage
20/25 drops in a 50ml carrier oil
EO for our dog diagnosed with LIPOMA ( fatty lump)
we bought this for our dog's fatty lump. she took to your oil well. this is a holistic remedy so the fatty lump will take some time to shrink in size. but she is doing well with the same
Grapefruit essential oil I have no words to explain how beautiful it is. Fresh, sweet citrus odour just makes my day when I blend with other oils
Ethically Sourced, 100% Natural Products
Environmentally-conscious products infused with the highest grade essential oils.
100%
Vegan
100%
Natural
Toxic
Free
Cruelty
Free
Purity in Every Drop
Our goal is to provide you with the
very best quality and 100% purity in every single one of our products.
Our goal is to provide you with the very best quality and 100% purity in every single one of our products.