Disclaimer: The image is for representation purposes only. The packaging you receive might vary.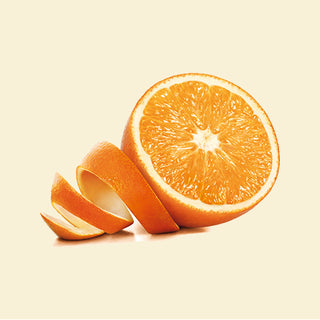 FEATURES
Botanical Name – Citrus aurantium
Origin – Spain/Brazil
Part of Plant Used – Fresh ripe or almost ripe outer peel
Method of Extraction – Cold Pressed
Colour – Yellow to orangish colored liquid
Aroma – Sweet, fresh, fruity odor
How to Use – Diffuse, bath and massage
Principal Constituents – Linalol, Linalyl Acetate, Limonene, Pinene, Myrcene, Camphene, Ocimene, Cymene among others.
Caution – Orange oil is an essential oil and as such should not be applied directly, undiluted on the skin or ingested. It should not be taken by pregnant women.
Sunshine in a Bottle!
Orange Essential Oil is a ray of sunshine in a bottle, extracted from the vibrant and juicy rinds of the citrus sines is fruit. With its sweet and zesty fragrance, Orange Essential Oil is the epitome of freshness and optimism.
This oil not only uplifts the senses with its invigorating aroma, but it also soothes the soul with its calming and relaxing properties. Perfect for use in aromatherapy, Orange Essential Oil is known to reduce stress, promote relaxation and elevate moods. Its antiseptic and anti-inflammatory properties make it a valuable addition to skincare regimes, promoting healthy and radiant skin.
Extracted through the cold pressing method, this exquisite essential oil retains all of its therapeutic properties, free from any additives, preservatives or synthetic fragrances.
Whether you seek to enhance your mood, nourish your skin or simply add a touch of freshness to your daily routine, Orange Essential Oil is a pure and natural way to promote overall health and wellness.Use it in a diffuser, add a few drops to your bath water or dilute it with a carrier oil for an invigorating massage.
Diffuse
8/10 drops on tissue or in a vaporizer
Bath
8/10 drops in a bath
Skincare & Massage
20/25 drops in a 50ml carrier oil
Ethically Sourced, 100% Natural Products
Environmentally-conscious products infused with the highest grade essential oils.
100%
Vegan
100%
Natural
Toxic
Free
Cruelty
Free
Purity in Every Drop
Our goal is to provide you with the
very best quality and 100% purity in every single one of our products.
Our goal is to provide you with the very best quality and 100% purity in every single one of our products.